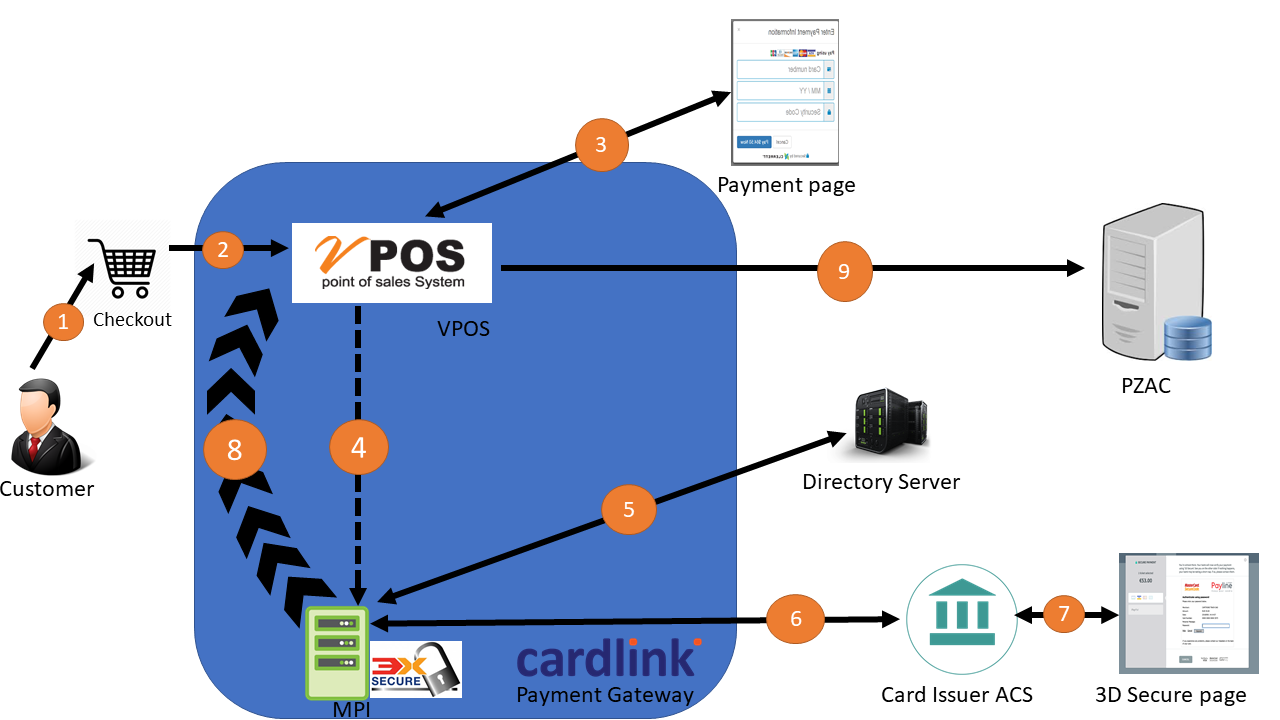 Customer has completed adding items to their cart, and proceeds with payment by navigating to the checkout page.
From the checkout page a POST request is sent to VPOS, with enough data for Cardlink to authenticate the merchant (MID, digest, etc).
**The Merchant's system is only aware of the VPOS, communication between VPOS & MPI takes place internally.
The customer gets redirected to the VPOS payment page, and inserts the card data.
Payment page has a 30 mins timeout while the 3D page has only 15 minutes.
On submission, a POST request is sent to VPOS, with all the parameters and their digest calculated by the merchant's system.
When the customer submits the card data, VPOS checks if the merchant is 3D Secure or not.
In case merchant is 3D Secure, VPOS connects to MPI which performs the authentication:
MPI uses the card's BIN to send a request to the corresponding Directory Server to:
Determine if the card is enrolled to 3d
Get the card Issuer's ACS url
The MPI sends a Request to ACS
The ACS redirects to the 3D Secure Page. As soon as the customer passes the 3D challenge, ACS returns the control to MPI.
MPI receives the response and sends it back to VPOS
3D secure data travel all the way, so that the bank can decline if no 3D authentication took place.
VPOS proceeds with authorization by sending a request to PZAC in Bic Iso format.
If the authorization is successful, then VPOS makes a POST request to the merchant's confirmURL.
If authentication or authorization fails then VPOS makes a POST request to the Merchant's cancelURL.